Hi!
My name is Patty and I live in the mountains of W.V.
I've been married to my husband Ronnie 25+years.We have two grown children.A daughter, and a son.We recently added a grandaughter to our family.
I love fairy's,and I also like hummingbirds.I have a fairy tattoo which I think is fantastic.I also have a hummingbird tattoo.They were both done at "ThinkinInk" in Fairmont W.V. by a lady named Patty.
She is also called "The Mistress Of Pain."I love her work.
The fairy was an original tattoo.I found the things I wanted and she put it together with the tattoo to the left as the result.
I also have a hummingbird,it was chosen from flash.Flash is chosen from a tattoo book at most tattoo parlors.Not an original,but often what you want.
West Virginia is the home of the WVU Mountaineers!
West Virgina has some beautiful places to enjoy.
One of which is "Blackwater Falls"
The stairway is long, and a hearty climb back to the top,but we can all use a little exercise.
Blackwater Falls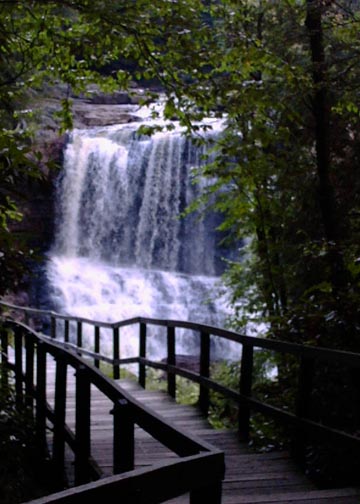 It's a long way back to the top.
Seems like everyone has a web page,and after having my computer 3+years,I guess I decided my time has came as well.So just check it out and keep in mind this is my first attempt.Next I need to learn the real stuff using html.